Carl D. Barkman (1919–2006)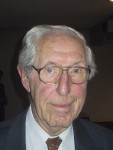 Born in Amsterdam in 1919, Carl Barkman studied Sinology at the University of Leiden, Netherlands, with Russian as a subsidiary subject. He wrote a doctoral thesis The Return of the Torghuts from Russia to China, which was published in 1955 in Hong Kong (Journal of Oriental Studies).
Read more…
Books and short stories
The Mandate
Asaray could never forget the summer day when the Russians came to rip him from the heart of his people, force him to forsake his destiny and take him so far away from everything he loved. It was to be the turning point, the most crucial day of his existence, yet he had been given no inkling of its approach.
Read more…
---
Ubashi's Concubine (postlude to The Mandate)
Ubashi's former concubine, Meilan, stayed in the luxurious ger which she had been provided with. Ubashi himself, for all his vanity, was soon forgotten, but all attention was now secretly focussed on the Chinese beauty. The common people associated her with Ubashi's extravagant spending and his dependence on the Chinese; they hated her and jeered at her when she went by in her sedan-chair.
Read more…