Books
Ambassador in Athens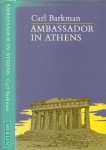 Carl Barkman arrived in Athens as the Dutch ambassador in 1969 during the early years of the Junta, and became in fact the most outspoken of the European Community representatives, interceding with the Colonels on behalf of political prisoners and bringing pressure to bear for the restoration of democratic government.
Read more…
---
The Mandate*
Asaray could never forget the summer day when the Russians came to rip him from the heart of his people, force him to forsake his destiny and take him so far away from everything he loved. It was to be the turning point, the most crucial day of his existence, yet he had been given no inkling of its approach.
Read more…
---
The Twisting Dragon*
This is not a history book, but a novel, and a historical novel only in the sense that it is a mixture of fiction and historical reality; and partly autobiographical. After all that has been published about Mao Zedong's China, its author attempts to give his own vision of Mao's years of decline.
Read more…
---